According to Forrester researchers, the remote-workforce trend will drive a steep rise in insider threats in the coming years. Currently, 25 percent of data breaches are attributed to insider threats, a figure which is expected to rise to 33 percent by 2021, according to the report. Despite the possibility of "regular" insiders turning malicious for a variety of reasons, there are bound to be some threats that emerge from unexpected sources in the year 2021. So, it is essential to know how to combat and prevent insider threats.
Insider threat prevention best practices are continually evolving in order to keep up with the changing nature of threats. In spite of the fact that no insider threat mitigation strategy can be completely foolproof, federal agencies such as NIST, National Insider Threat Task Force and other insider threat guidance sources are stating that when properly implemented, an insider threat mitigation strategy can serve as a powerful tool to combat insider threats. NIST provides a mapping of risk-based security controls which can help organizations create a blueprint for an insider threat program.
Prevent insider threats by:
Aligning human behavior to an insider threat using user and entity behavior analytics (UEBA)
Developing a data-driven approach to prevent insider threats
Creating a policy-driven insider threat mitigation program with Zero Trust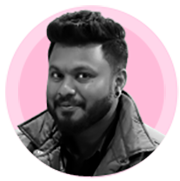 Presented by

Jay Reddy, Sr. Technical Evangelist.
A sought-after speaker on the latest IT trends in international conferences and seminars. Authored numerous e-books and research studies that help business leaders with insight and advice on leveraging the latest technology for better IAM and cybersecurity.